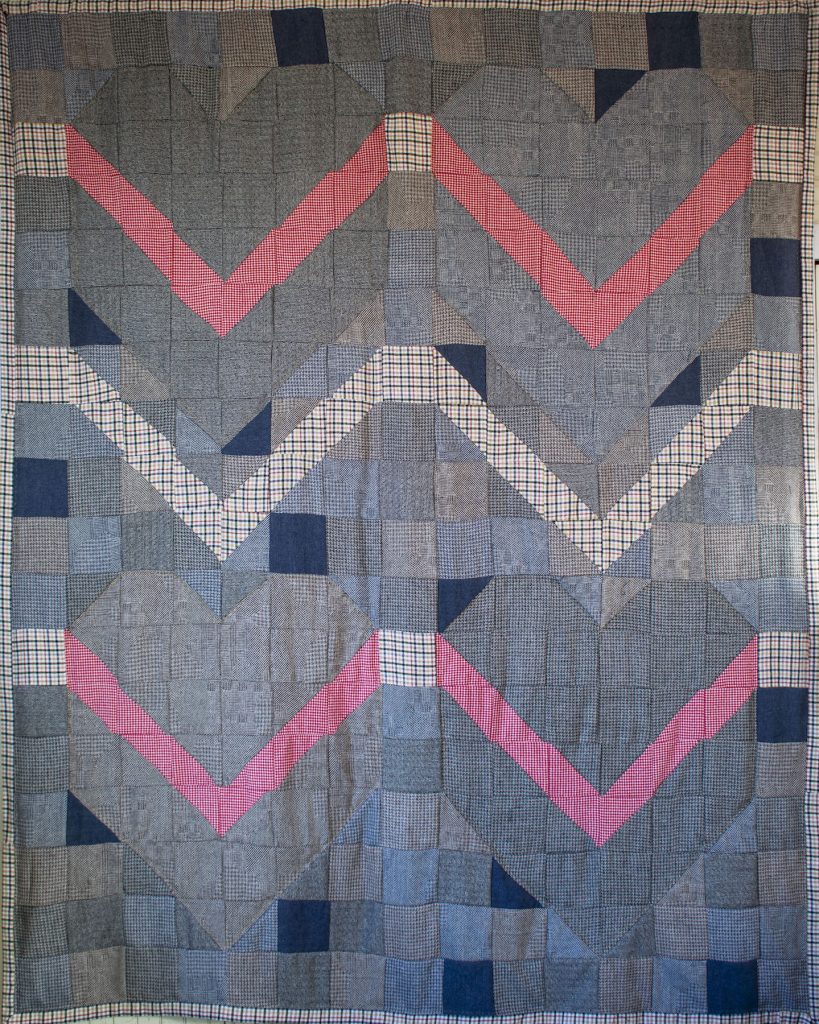 The Square Root of Wonder III, 2018
Quilt: wool suiting material, viscose and cotton thread
210cm x 270cm
The threads of this quilt emit the light of my mother, daughter, grandmother, and my perspective of Divine intelligence. The actual production of this object was inspired by Makers in Windsor and Artificial intelligence. In light of recent movements of empowerment, while working on this object I meditated on the wonderful men and women throughout my life who have communicated and existed with me in a manner of dignity, equality, and respect.
Primarily its design emerged from my perspective on faith as well as the nurturing philosophies of the following books:
I am Dynamite: An alternative anthropology of power, Nigel Rapport
I had the honour of sharing nourishing thoughts and food with the author in Montreal while he was Canada Research Chair at Concordia University in 2008. It has seemed vital to revisit his work in the past couple of years. The focus of the book is upon what it takes for an individual to maintain one's "life project" congruent with as well as despite life's circumstances.
The Order of Time, Carlo Rovelli
Expanding, challenging, and affirming for my own perspective on personal and shared existence.
I was inspired in August of this year to write the author, sending him the first drawing,
The Square Root of Wonder.
Embers: One Ojibway's Meditations, Richard Wagamese
Read in tandem with Rovelli's work, a perfect pair… an intimate universe of words that I now hold dearly. Although Wagamese has now passed, if I were to stand before him I would let him know how I love and respect the vision he shares and invites us to share.
Custom Stuffies
Ditch-bug drawing by 6 year old

Custom Ditch-bug
Inspired by my young daughter for Christmas 2018…after creating a small bear for the child of a family friend my daughter asked if I would make her a stuffed animal too. Upon my request to have her create the design I used her drawing as a plan and the results were unique and exciting. I have now continued on with this process and have found that the children involved have the experience of seeing something they have imagined become something tangible, a unique experience of creation and confidence.
Cat drawing by 7 year old

Custom Cat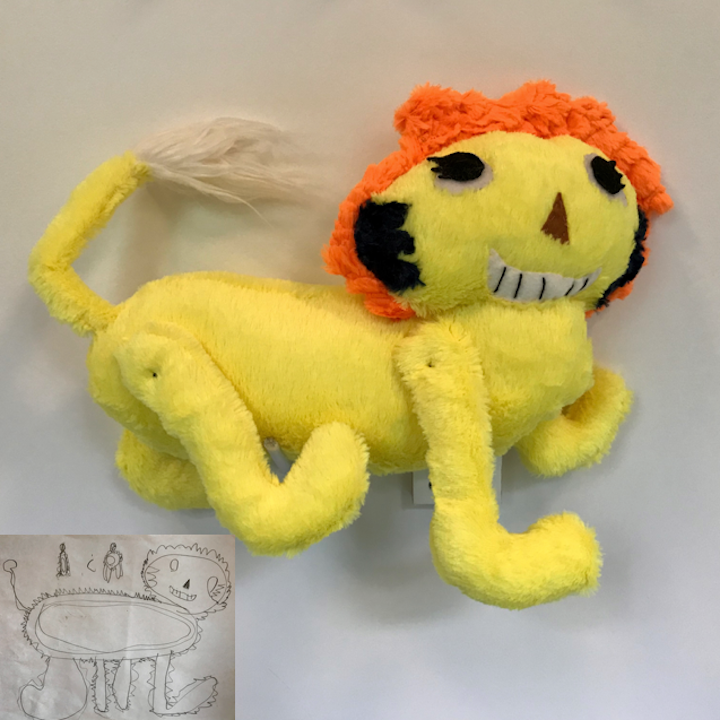 "Pillow Fight"
After starting the creation of stuffed animals I decided to make similar small objects with a formal design in mind. Inspired by a recent exhibition proposal the series has now adopted the title of "Pillow Fight."
Pillow Fight #1

Pillow Fight #2