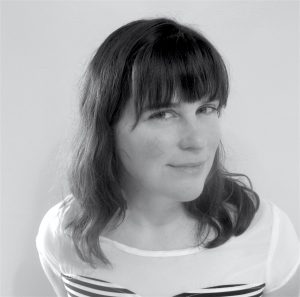 Email: studio@carasawka.com
Twitter: @CaraSawka
Artist Statement
If we have senses, we perceive space.
Sculpture and drawing are the methods I use to explore the commonality of sharing sensorial and emotional space through our bodies. We are sensitive to how the human form is portrayed through art, every nuance is a decision waiting to be perceived. Sometimes elegant, other times absurd, I create objects that I look at and say, and perhaps others will also say, yes, sometimes I feel this way.
I think of my sculpture as choreographed objects, opening up possibilities of implied movement with the static object and a relationship of objects to time, space, and gravity. It is my intention that viewers will encounter my work as though they are witnessing a three dimensional still of a performance, igniting the imagination for movement and narrative, not without an undercurrent of humour.
Biography
Cara Sawka is a sculptor living in Summerville, Nova Scotia, where she works at Shore Hall Studio. As a child in Regina, Saskatchewan, she was surrounded by a family of artists and artisans, encouraged to draw the human figure. Sawka's interest in representing the human form in sculpture began early in her undergraduate program at the University of Regina leading her to a semester abroad in Florence, Italy. While attending Concordia University in Montreal for her Master of Sculpture degree artist Rober Racine described her work as a "choreography of sculpture" (2006) leading her to identify herself as such. Sawka has received assistance from the Saskatchewan Arts Board for several past projects, attended international and Canadian artist residencies including the Banff Centre and continues to work independently. She has most recently completed a sculpture project funded by Arts Nova Scotia.
Education
2008    MFA Studio Arts, Sculpture; Concordia University, Montréal, Québec, Canada
2003    BFA Sculpture; University of Regina, Regina, Saskatchewan
2001    Arte Sotto un Tetto, Florence, Italy; semester abroad
Residencies / Grants
2015-17 Arts Nova Scotia Grants to Individuals, Circus of Life project, Creation Grant
2015    SOFA Chicago Educational Mission, Craft Alliance/ Métiers d'arts, Chicago, IL
2010   Self-directed Residency, Visual Arts, Winter, Banff Centre for the Arts, Banff, Alberta
2010   Independent Arts Grant, Visual Arts, funding for program at the Banff Centre, Saskatchewan Arts Board
2009   Sculpture Department, Artist Residency, University of Regina, Regina, Saskatchewan
2008   Full Fellowship, Vermont Studio Center Visual Arts Residency, Johnson, Vermont, USA
2008   Can Serrat International Art Center Artist Residency, El Bruc, Spain
2006-7   MFA Graduate Fellowship, Concordia University, Montréal
2005   Visual Arts Individual Assistance Grant, Saskatchewan Arts Board
2004   Global Stone Workshop, Marina di Carrara, Italy
2003   Visual Arts Individual Assistance Grant, Saskatchewan Arts Board; Individuals sculpture series
Selected Exhibitions
2017   Circus of Life; solo sculpture exhibition, 2nd story, Cedar Centre, Windsor, Nova Scotia
2013 Love Me; image of sculpture printed on flag, DMZ International Installation Art Exhibition,
seokjangri Art Sculpture Park, South/North Korean Border
2011   it's (not) all about you; solo sculpture exhibition, Chase Exhibition Room, Halifax, Nova Scotia
2010   Thread-Bound; group exhibition with theme based on 'the stitch', Art Gallery of Regina, Regina, Saskatchewan
2008   Collision 4; MFA group thesis exhibition, Parisian Laundry, Montréal, Québec
2007-8   Ignition 4; MFA group exhibition, Leonard and Bina Ellen Art Gallery, Montréal
2006-7   'SCAM' Small City Art Museums tour; selected works from the Individuals series included in group touring exhibition visiting the Art Gallery of Swift Current, Estevan Museum & Art Gallery, Moose Jaw Museum & Art Gallery, Art Gallery of Prince Albert, Esplanade Art Gallery, Two Rivers Gallery in Prince George, and the Kelowna Art Gallery
Method and Working Statements
Upholstery techniques are used to stitch textiles by hand directly onto the plaster sculptures.
Individuals
Over time, I have come to terms with how much this work asks questions.
These questions hope that whoever views the Individuals identify and internalize their own personal interpretation and meaning; that no matter how light reflects off of the surface of our skin to meet our eyes we may enjoy beauty in life; that we may acknowledge the constraints of history to break free of them and move forward together with dignity in our present.
Couples
There is an impenetrable world contained within the nuance between two people.
Ghost Artist
The term "Ghost Artist" refers to textiles, when designers go unknown or unacknowledged for their work.
La Femme Qui Marche
Taken from the form of a small maquette I had been working on, the title was also inspired by Michael Snow's "Walking Woman" that I had seen in the MacKenzie Art Gallery in Regina, Saskatchewan. I had a sense all those years ago that I would create my own version based on the subject.
Countin' Flowers on the Wall
Created while at the Vermont Studio Centre in Johnson, Vermont. The choice of textiles for the surface of the work came from looking at similar wallpaper in my room during my stay. This benign domestic observation was juxtaposed with the idea of the wall-trophy given the autumnal time of year.
Form and Decoration
This work was inspired by Spain, where I was, and Rory MacDonald's work from several years before, black wood cut wall hangings. For each grouping I drew the form of a cartouche and modified it several times to create layers.
It's (Not) All About You
The title for this work comes from a correspondence with a Nashville fiddle player, Buddy Spicher. We each play an important role in making experiences happen. Let us look at the structure of a musical performance through Buddy's eyes. To Buddy, the attentive audience, lending their time, money, appreciation, and the other musicians on stage lending their efforts, time, talent, etc. plus all the people behind the scenes putting it all together, are equally important and appreciated as much as the main performer. This can be used as a metaphor for a wider experience of life.
The Continuous Rise and Fall of the Individual
As the title suggests…
Various Impositions
Inspired by the graffiti behind my building near the crumbling overpasses in Montreal where I frequently walked my dog.
Revised Organs
Personalizing an imagined series of internal organs emerging from sketches.
Designer Infant
I just thought this was humorous, farfetched, and absurd. It was done at a time when genetic manipulation was a hot topic. Odd how something so advanced years ago is so quiet now.
ACKNOWLEDGEMENTS
I would like to express how fortunate I feel to look back on my life's experiences and remember many people who have treated my life, voice, opinions, and work with utmost respect. Having had times in my life when I have not had a voice, the support that I have had is a real treasure. I participated in a rigorous, intellectually challenging and engaging education with incredible mentors, both men and women with various backgrounds. I enjoyed spending time with and learning from them immeasurably.